Suggested Retail Packaging
In 1996 we began improving closers with our first invention "The RedThing™" hold tab. This simple mechanism can generate amazing friction to hold a door opened.
When combining the RedThing™ with our new magnetic tab controller invention MagChek™, a new standard is born!
Premier™ is the first closer in history capable of providing two hold-open options by a single tab: Basic Hold and Immediate (FeatherTouch™) Hold.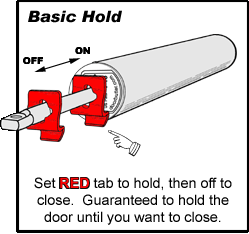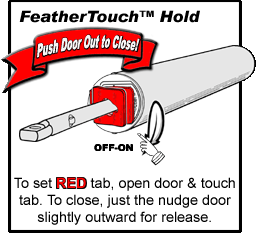 Rotate tab downward for Basic Hold such as when moving furniture or for pet access. Use when you don't want the door to close beyond a certain position. Unlike some tabs that easily fail, the RedThing™ tab will never slip.
Use gentle FeatherTouch™ for convenience such as when returning home, receiving guests, deliveries, etc... Magchek™ keeps the RedThing™ tab ready to hold, then just push the door slightly outward to close!
Premier™ components are simple, universal, and add very little cost which could establish a new line of door closers and related hardware. We are seeking OEM/ODM, licensing, marketing, & distribution ops.
---
Please note that the unique shape of the RedThing™ tab will not pinch fingers, including those of a small child. This is one very well crafted device including zinc plated rod, internal shock spring, and easy speed dial.
So, the next time you need to replace your door closer please remember
"Premier™ is the world's only FeatherTouch™ screen/storm door closer"
Available Colors




US Pats & Pats Pend.: US.D395,995; US.D425,776; US.D425,399; US.5,829,098; US.5,953,789; US.6,032,331; US.6,397,431; US.6,640,387 . Door Butler®; The RedThing™; Charlie™; MagChek™; Premier™; Ultra™; Retro™; the reddish colored hold-open tab; and others are trademarks of R.A. Products Co. Inc., Denver, CO USA. Copyright © 1996-2005 RAPCO™ & Ricardo Alonso. Website by RAPCO