"PremierPlus™ combines all the elements of the Premier™ door closer... however also includes our patented clip plate and jamb bracket (CP-01) .
---
CP01 is made of tempered steel for durability and lifelong performance. There are two stacked plates which create a super strong attachment onto the jamb. Under normal usage the plates will never strip from atop the doorjamb! This is one very tuff component.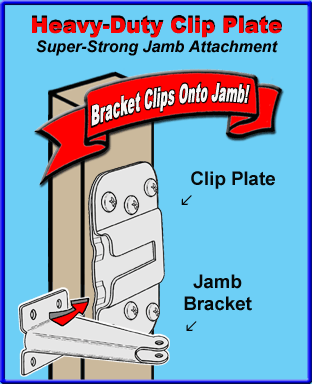 Permits jamb bracket to be installed onto a doorjamb having previous "screw-damaged" or stripped wood

Provides a stronger attachment for the closer, especially for heavier ornamental steel security storm doors

Allows the jamb bracket to be quickly removed to widen the doorway for moving furniture and appliances
PremierPlus™ pricing for EBay is only $14.99 ea.*
---
PremierPlus™ is available in 4 colors: (Almond, Black, Silver, White); two sizes:

PP12 is for light to medium doors such as aluminum, wood core, etc...
PP15 is for heavy doors such as full glass, wrought iron, etc...

NOTE: The only difference between the two sizes is that the PP15 has much greater spring tension for closing a heavier door. Otherwise, these devices are both built as "heavy-duty" designed to last for years and years. We do not recommend using a PP15 on a lighter door as it will require a bit more effort to push the door opened, and therefore might not be desirable.
PP12-A (Medium Almond)
PP12-B (Medium Black)
PP12-S (Medium Silver)
PP12-W (Medium White)
PP15-A (Heavy Almond)
PP15-B (Heavy Black)
PP15-S (Heavy Silver)
PP15-W (Heavy White)
Available Colors




PremierPlus™ pricing as low as $14.99 ea.*
*For wholesale or multiple units please email.