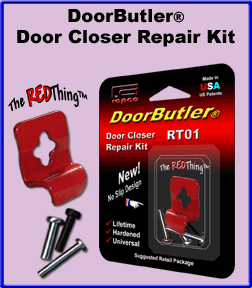 DoorButler® RT01 Door Closer Repair Kit
Contains: "The REDThing™" Hold-Open Tab; Various Replacement Pin Sizes
---
"The REDThing™" Is The Only Hold-Open Tab Guaranteed Forever!
Chances are the only thing wrong with your door closer is that IT WON'T HOLD THE DOOR OPEN! Try to think of all the times you've needed to hold the door such as when carrying groceries, returning home, moving furniture, disability assistance, pet access, etc... For most people it's everyday. Our patented REDThing™ tab fixes door closers fast... guaranteed to hold every time you need it.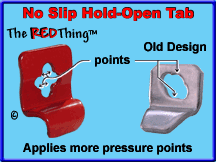 The REDThing™ is a non-slip tab made of hardened steel. It was invented in 1998 by Ricardo Alonso, after he refused to AGAIN replace his door closer just because it wouldn't hold the door opened. Nearly 30,000 units have stamped and sold in Denver, mostly at small hardware stores like Ace® and True Value®.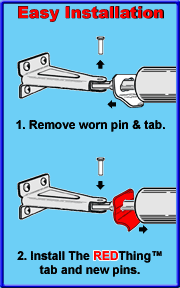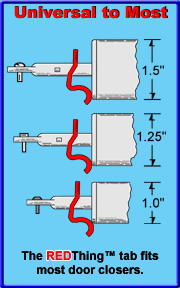 Universal to most door closers

Tuff hardened steel will not bend or deform

Easily installs in minutes
Special "The REDThing™" pricing is only $3.99 ea.
or
3 for $9.99 (includes free shipping)**

**Free shipping to Continental U.S. only. For Alaska & Hawaii add $1.00. For Canada add $2.00 USD. Multiple units sold in poly bags. Sorry, no "Best Offer" discounts on single units.
For wholesale please email.
---