Xtend™ combines all the elements of our Premier™ door closer, however also includes our pending multi-pivot slide jamb bracket and clip plate (3DJB™) .

---
3DJB™ is made of tempered steel for durability and lifelong performance. The bracket has two settings, "Lock Pin" for normal closer function; and low maintenance "Slide Pin" permitting the closer application onto entry doors and for wider door access.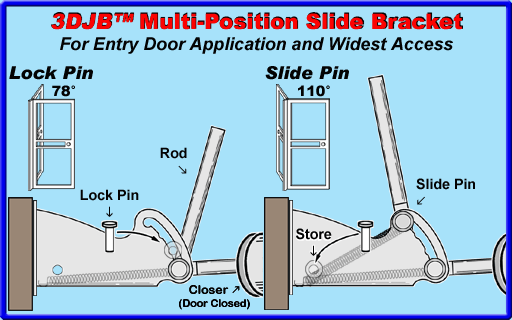 Provides dual modes: Lock Pin (for normal closer function); Slide Pin (for access up to 110 degrees)

Slide Pin "dampening" feature overrides normal speed to close door with substantially faster action!

Tempered steal provides a stronger attachment especially for heavier ornamental security doors
For Entry Doors:
If you have ever applied a door closer onto an entry door, you know that the door swing becomes greatly reduced (approx. 65-75 degrees or so...). 3DJB™ will permit entry doors to open at least to 90 degrees.
For Screen & Storm Doors:
The bracket will permit the door to open up to 110 degrees. This can be very useful for people who use mobility devices such as wheelchairs, and also for doors that are less than standard size (ie: mobile homes).
Xtend™ is only $24.99 ea.*
---
Xtend™ is availible in 3 colors: (Black, Silver, White); two sizes:

X12 is for light to medium doors such as aluminum, wood core, hollow, etc...
X15 is for heavy doors such as full glass, wrought iron, solid wood, steel, fire rated, etc...

NOTE: The only difference between the two sizes is that the X15 has much greater spring tension for closing a heavier door. Otherwise, these devices are both built as "heavy-duty" designed to last for years and years. We do not recommend using a X15 on a lighter door as it will require a bit more effort to push the door opened, and therefore might not be desirable.

X12-A (Medium Almond)
X12-B (Medium Black)
X12-S (Medium Silver)
X12-W (Medium White)
X15-A (Heavy Almond)
X15-B (Heavy Black)
X15-S (Heavy Silver)
X15-W (Heavy White)
Available Colors




Not For Commercial Usage... Residential Use Only
*For wholesale or multiple units please email.